Specialized High School Admissions Test (SHSAT)-8 Grade Registered Students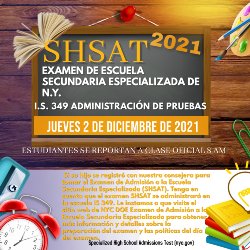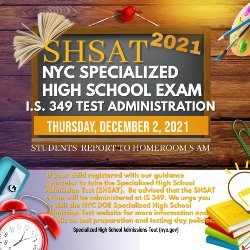 What

Specialized High School Admissions Test (SHSAT)-8 Grade Registered Students

When

12/2/2021, 8:00 AM

–

12:00 PM

Where

IS 349
Specialized High School Admissions Test
Who takes this test?
Students in grades eight or nine who want to enroll in one of New York City's specialized high schools must take the Specialized High Schools Admissions Test (SHSAT). All students in grades eight and nine who are current New York City residents are eligible.
The schools that require the SHSAT are:
Bronx High School of Science
Brooklyn Latin School
Brooklyn Technical High School
High School for Math, Science and Engineering at City College
High School for American Studies at Lehman College
Queens High School for Sciences at York College
Staten Island Technical High School
Stuyvesant High School
For more information, how to prepare and testing policies visit the website using the link below.
Best Wishes to ALL our Students!!!
Copy to Google Calendar
•
Download iCal Event